Today is National School Nurse Day! Our school nurses make a difference in the lives of children today and every day. They lead the way to support health and ensure that our students are healthy, safe, and ready to learn. Thank you for what you do #4theT!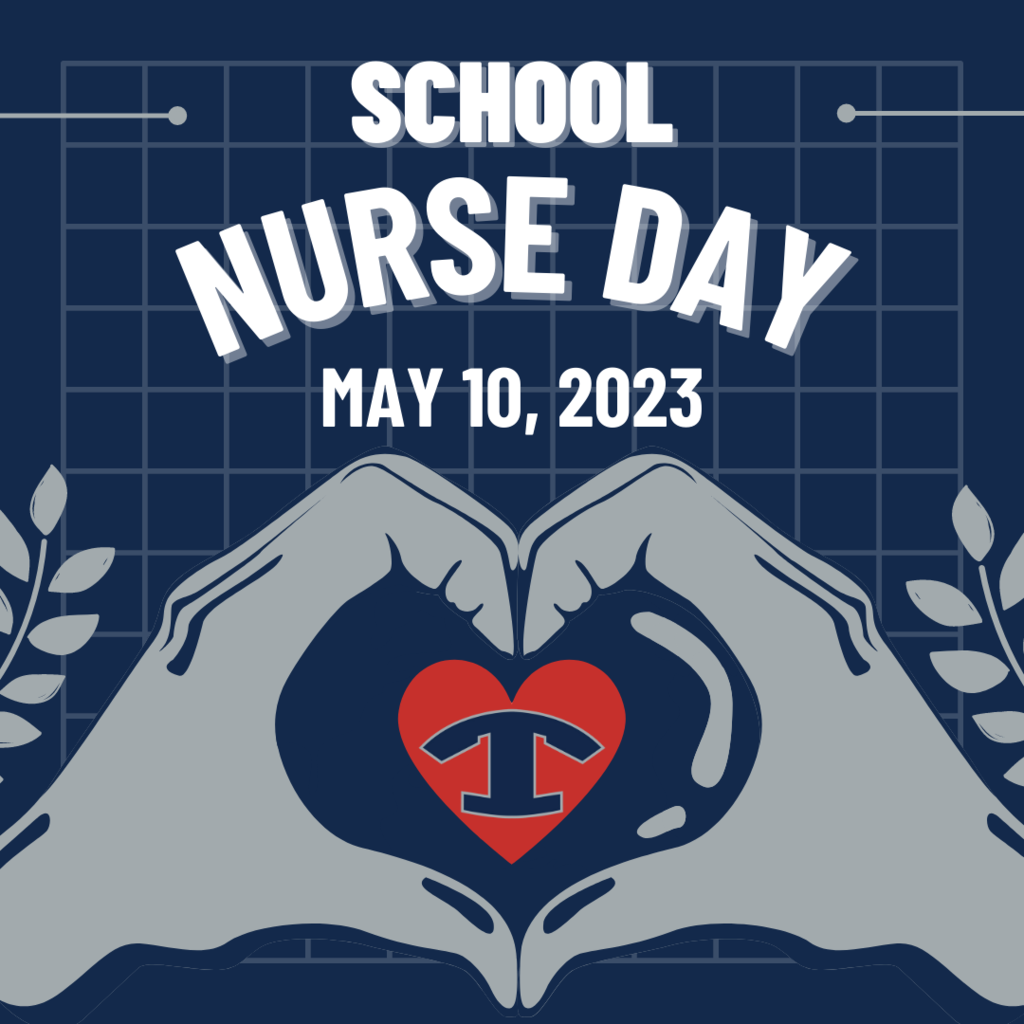 Yesterday TCHS students welcomed GA Supreme Court Justice Verda Culvin to Tifton. Judge Culvin took time to speak with these students about her life and the path of her career. Special thanks to Larry and Joyce Mims for making this visit possible. #4theT

The 2023 Special Hearts Graduation Ceremony was held this morning in the TCHS Performing Arts Center. Congratulations to our 2023 Special Hearts Graduates! You make us Better Today than Yesterday! #4theT

Students in grades 3-5 at Annie Belle Clark Elementary participated in the National Who Was History Bee this year for the first time. The school level winner, Cullen Boney, is also the winner for the entire Southern Region of the US. Congratulations Cullen! #4theT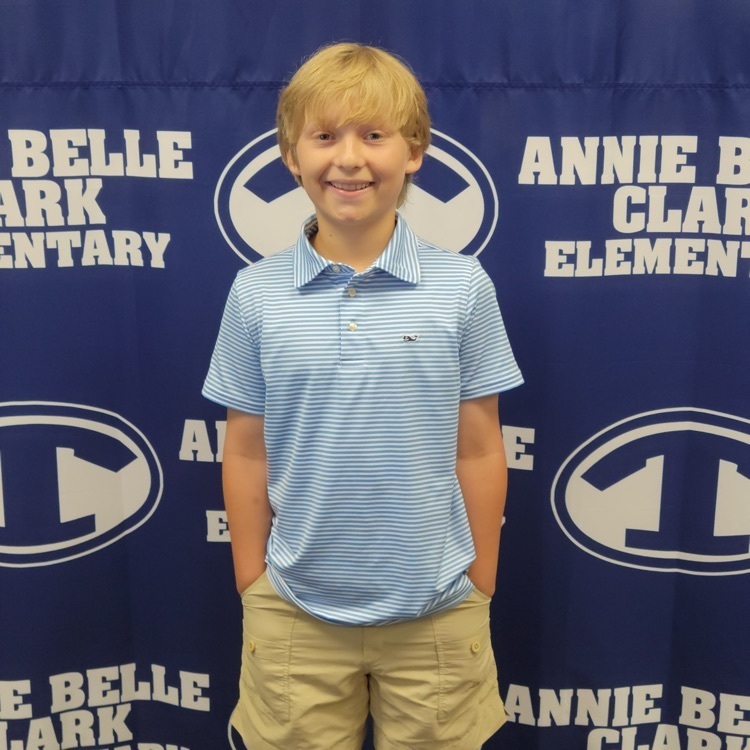 Parents, students & peer teachers please take a moment to reflect on this school year and nominate an Outstanding Teacher by completing this form from the Tift County Foundation for Educational Excellence by May 31, 2023.
https://tinyurl.com/TCFEEExcellence2023
#4theT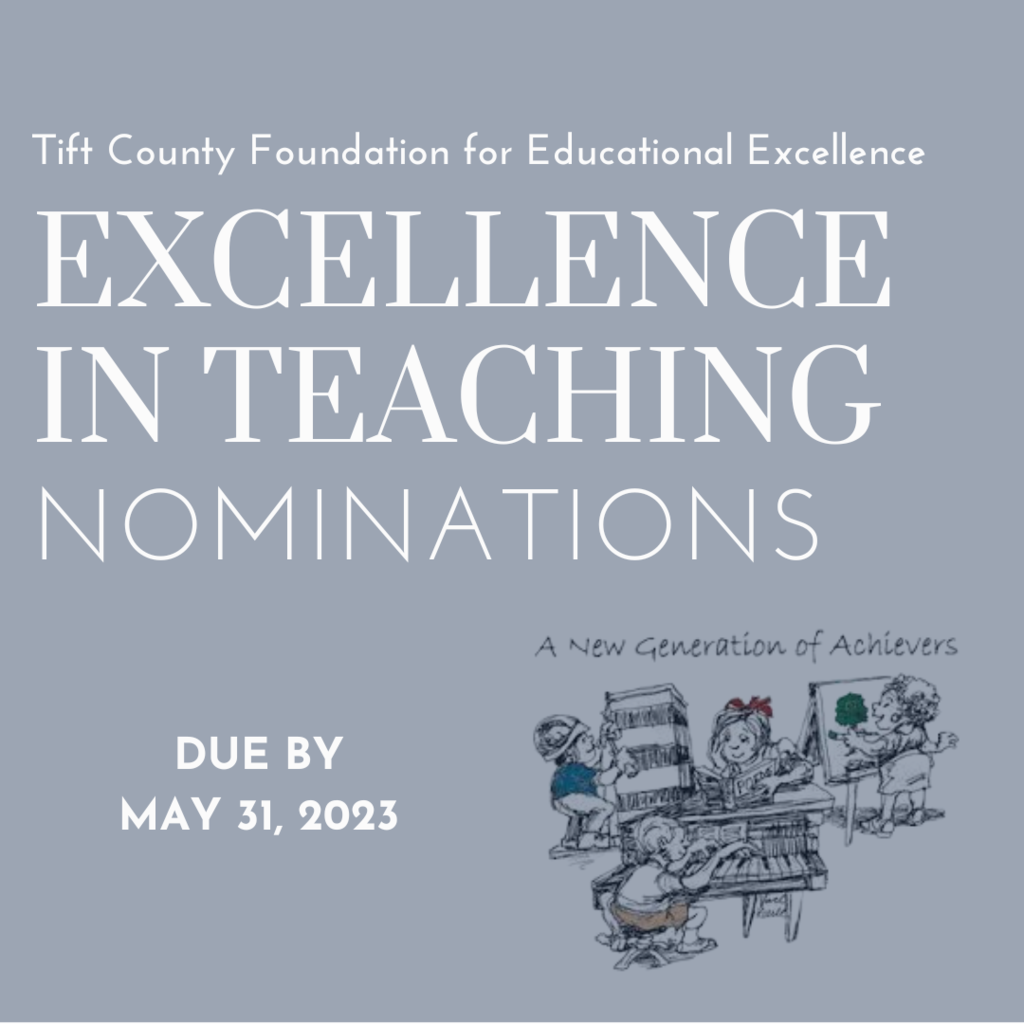 Georgia Future Educators Signing Day is set aside to recognize students who have chosen to pursue a career in the field of education. On May 2nd, eleven members of the TCHS Class of 2023 participated in a signing ceremony. These students have completed the Early Childhood Pathway at TCHS and plan to continue their education with a goal of earning their post secondary degree and beginning their career as an educator. The students that participated in this year's signing are: Lauren Butler, Kamiya Davis, Wendy DeSantiago, Sarai Gomez, Kamiya Johnson, Shacayia McMillan, Paulina Meza, Ahora Ray, Maria Rodriguez, Kaliann Smith, and Jazzlynn Tumbling.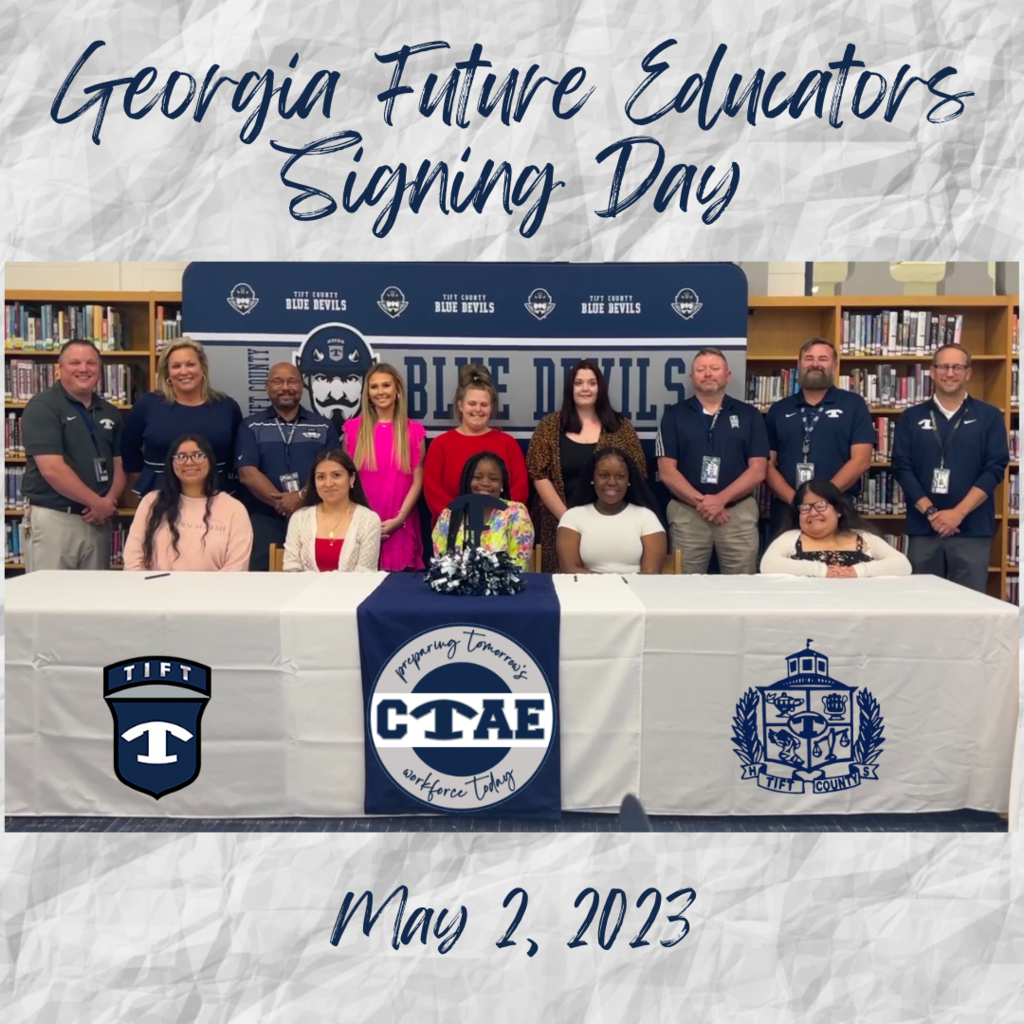 We are currently seeking applicants for a Bilingual Parent Involvement Coordinator at Omega Elementary School. The job announcement and description for this and other available positions can be found at
https://www.tiftschools.com/browse/218962
. #4theT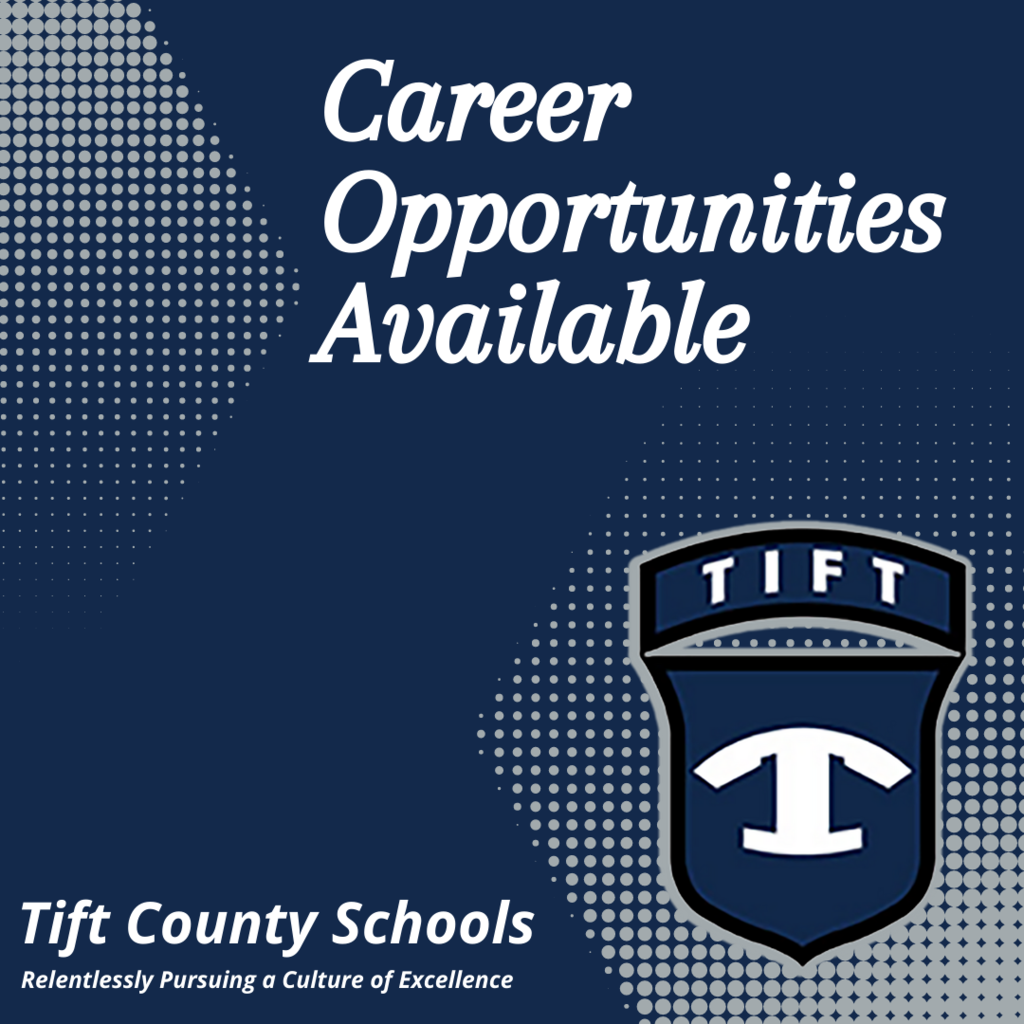 Congratulations to the 2023 T.A.L;K (Tomorrow's Aspiring Leaders Kids) graduates! T.A.L;K is a year long program sponsored by the Tifton - Tift County Chamber of commerce for students in 8th grade from Eighth Street Middle School, Northeast Middle School and Tiftarea Academy. This year's graduates were honored at a ceremony yesterday at the UGA Tifton Campus Conference Center. #4theT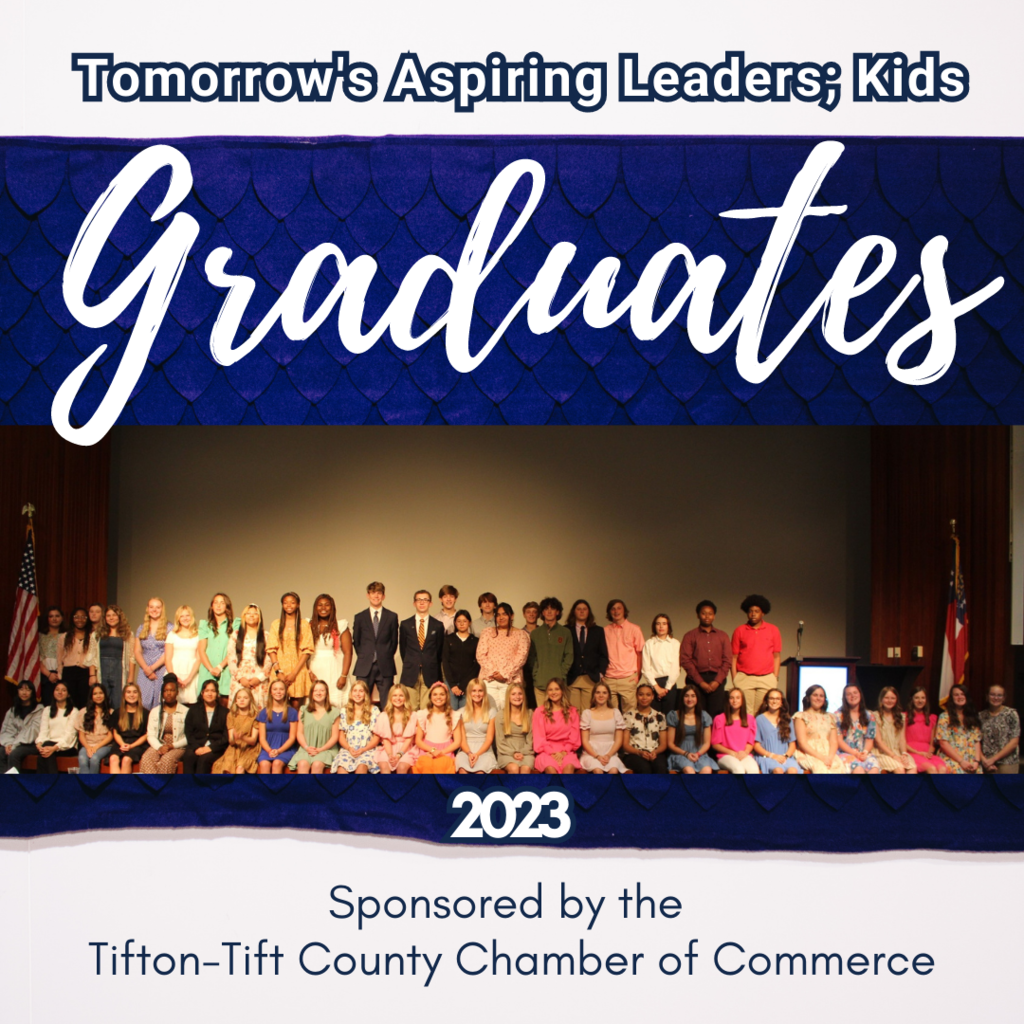 Come out to the Tifton-Tift Co Public Library tomorrow (May 4th) from 4-6pm for a Star Wars themed Crafternoon! See flyer for details.

Today we celebrate the leaders of our schools. Happy National School Principals Day! Thank you for all that you do for our students and #4theT!

REMINDER: Tomorrow, Monday, May 1st is a Teacher Work Day (student holiday). #4theT

Tift County Schools will hold a virtual district-wide parent engagement meeting on Wednesday, May 3rd at 4:30pm. The purpose of the meeting is to gather input for the development of the 23-24 District Parent Engagement Plan. Please contact the parent coordinator at your child's school to receive the link for the virtual meeting. For a list of parent coordinators visit
https://www.tiftschools.com/page/parent-engagement
#4theT

🗓️ SAVE THE DATE 🗓️ The 🎓Graduation🎓 Ceremony for the TCHS Class of 2023 will be held Saturday, May 20th at Brodie Field. Processional will begin at 7:45 am. #4theT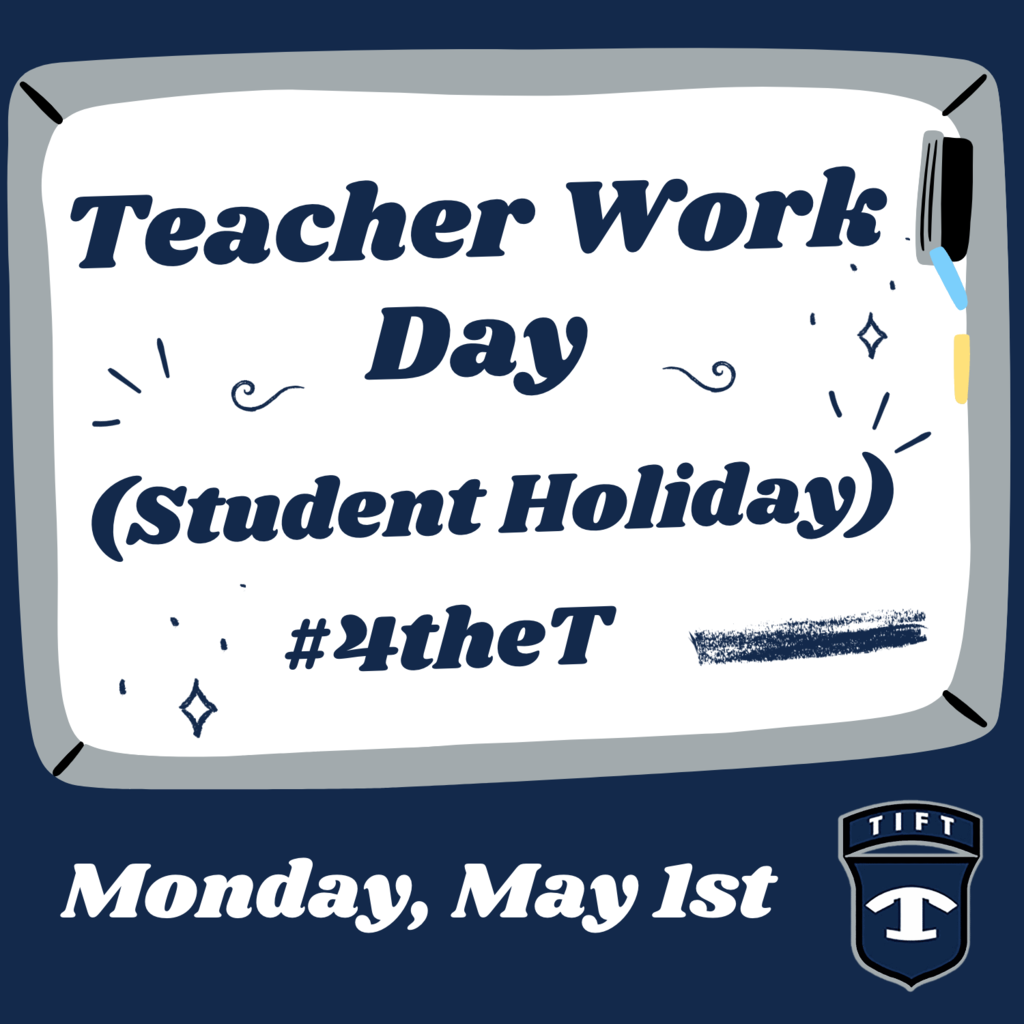 Today we honor those people who diligently work behind the scenes Relentlessly Pursuing a Culture of Excellence. Happy Administrative Professionals Day! Thank you for everything you do #4theT!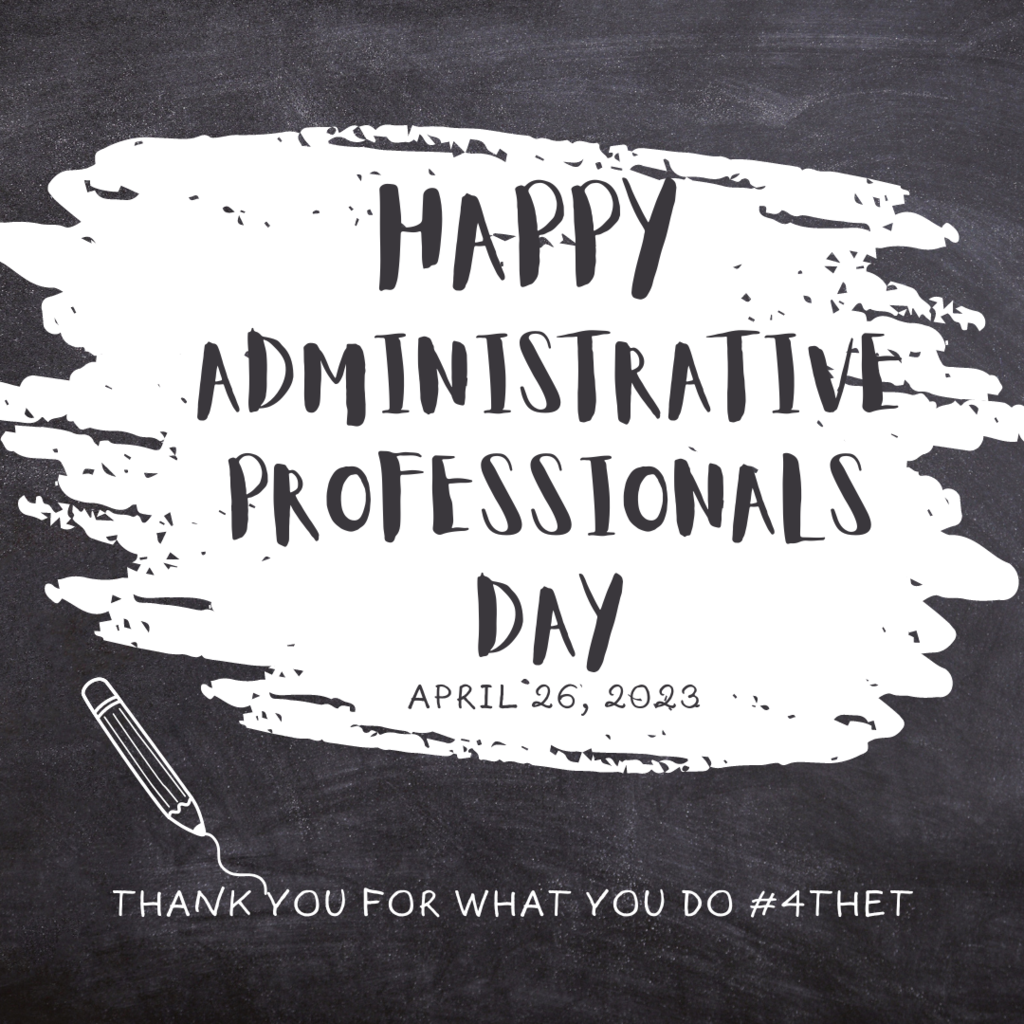 Free athletic physicals will be given TOMORROW at Georgia Sports Medicine, Southwell Orthopedics at 2227 Hwy 41 N. from 8:30am-12:30pm. This will be for students currently in grade 5-11 that are interested in playing middle school or high sports next year. The schedule will be: 8:30am-9:45am Football, Softball, Cross Country, Volleyball, Esports 9:45am-11:00am Cheer, Basketball, Wrestling, Swim, Gymnastics, Bass Fishing, Tiftarea 11:00am-12:30pm Baseball, Tennis, Golf, Track, Soccer, Riflery. Forms can be found at
https://athletics.tiftschools.com/o/athletics/documents/athletics-forms/218683
. Parent signatures and personal information will need to be filled out before you can get your physical. #4theT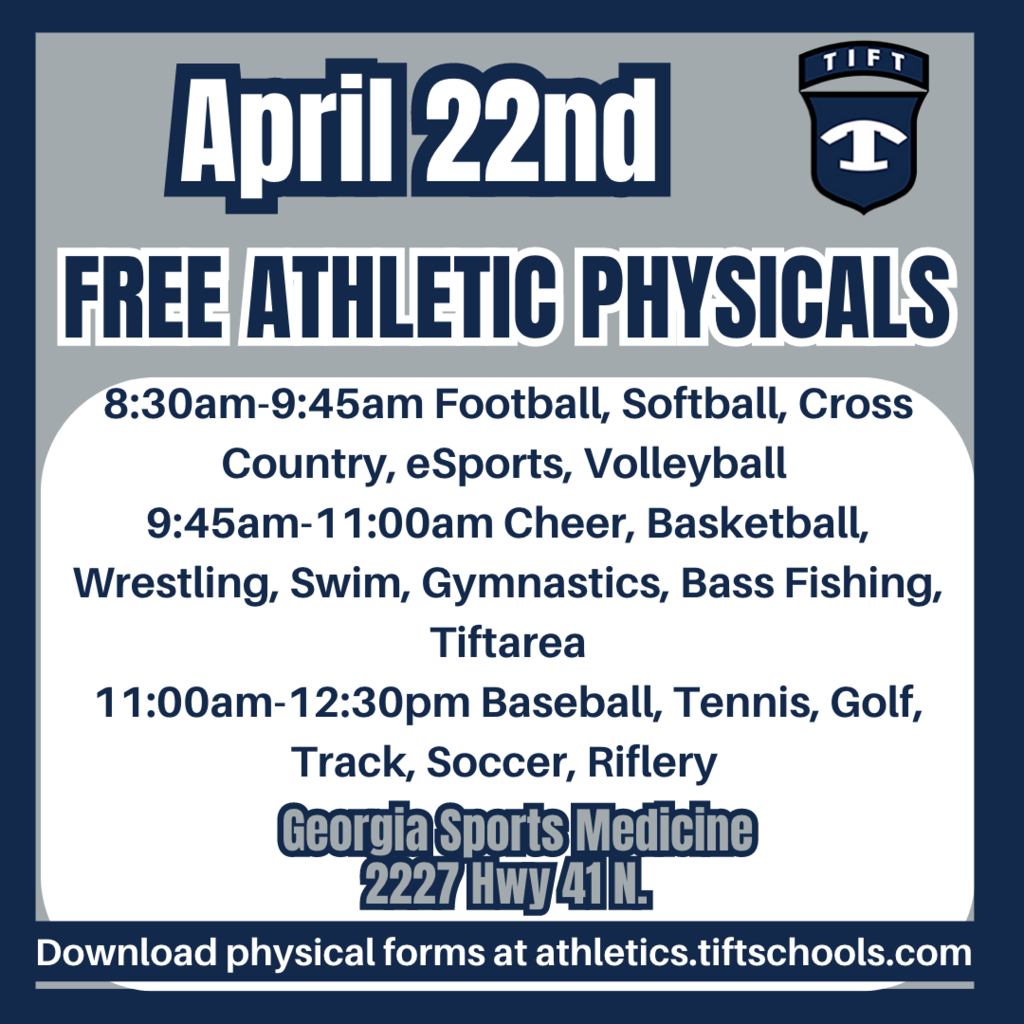 Today is National Kindergarten Day! If your child turns 5 on or before September 1st of this year, make sure they are registered for Kindergarten for the 23-24 school year. Students currently attending Tift County Schools PreK program do not need to re-register. #4theT

This morning second grade students from all elementary schools were treated to a sneak peak of the upcoming performance of MAMMA MIA! by the TCHS Blue Devil Players. Performances will be nightly April 20th - 22nd at 6pm and April 23rd at 3pm. You don't want to miss this! #4theT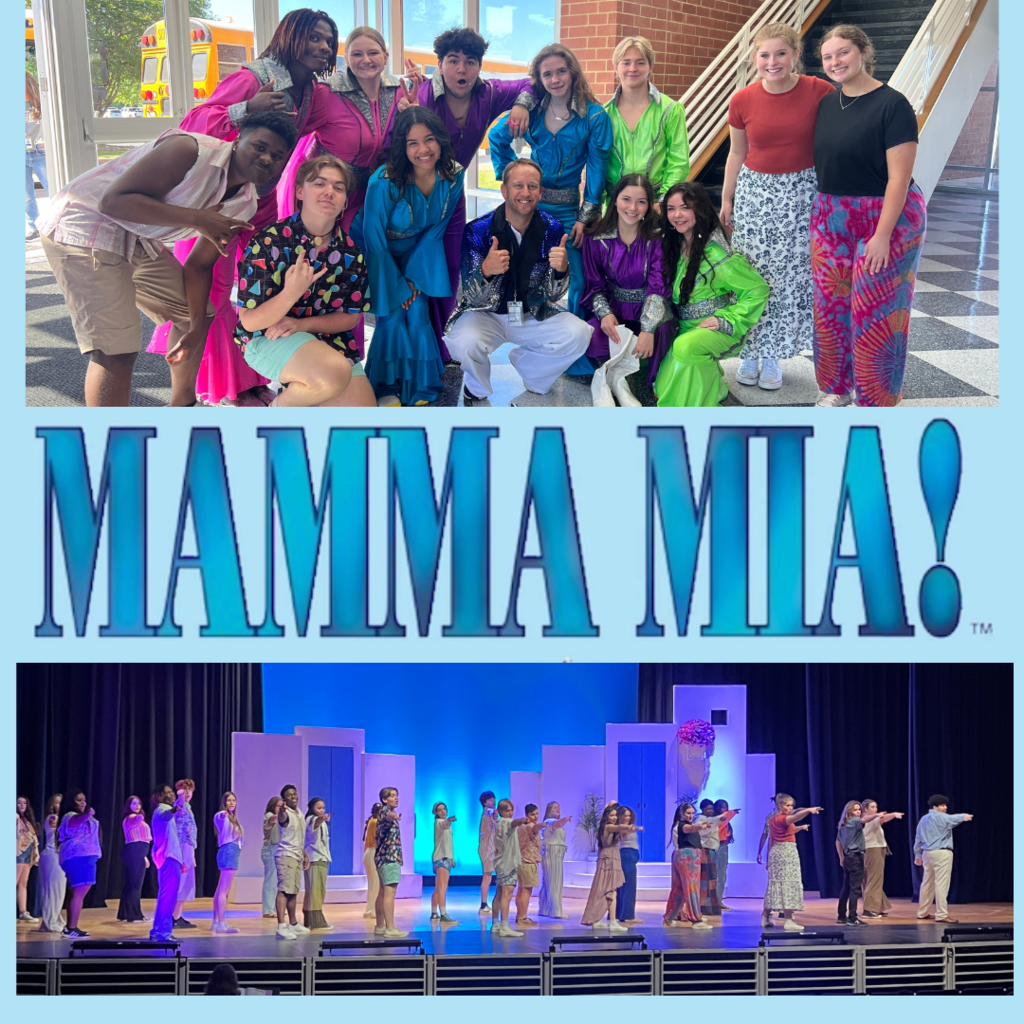 Tift County Schools families of students in grades 6-12 interested in online learning can apply using the link below. The application for the 2023-2024 school year will close on August 3, 2023. #4theT
https://forms.gle/whxMfMde3WJBkWg57

Progress Reports for the 4th 9 Weeks will be available today in your Infinite Campus Parent/Student Portal. #4theT