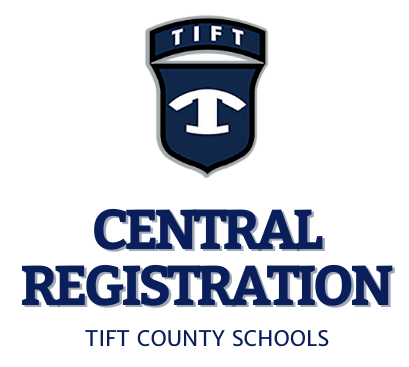 Who needs to visit Central Registration:
New & returning students to Tift County Schools
What has changed:
Families that need to change their address can now complete this by scanning and emailing two proofs of address and a copy of your id to registration@tiftschools.com. (See the list of required documents for acceptable proofs of residence.) Make sure to include your contact information and someone will contact you regarding this change.
New Student Online Registration Process:
1. Click here to complete the online application.
Make sure your popup blocker is set to allow popups from *tiftschools.com

DO NOT attempt to complete registration using a cell phone or tablet
**If you have a child currently attending Tift County Schools and need to register a new student, login to your parent portal account and use the Online Registration link on this site.
2. Gather all required documents
3. Schedule an appointment with our Central Registration office to meet with a registrar to review the information and complete your registration process.
Out of County Attendance Requests are considered prior to the start of a new school year (May - July) for all grade levels and in December for students in grades 9-12.
High school students who are approved in December will start school in Tift County in January when the new semester begins.
All out of county requests must include a copy of the student's behavior, attendance and grades from the most recent school year.
*We are no longer accepting Out of County requests for the 2022-2023 school year.
PreK students MUST turn 4 years old ON or BEFORE September 1st.
Kindergarten students MUST turn 5 years old ON or BEFORE September 1st.
Registration Process Summary:
Gather all of your required documents

Come to Central Registration (located at the Tift County Schools Administrative Offices) to complete the registration process
Address Change Process Summary:
Gather all of your required documents

Schedule an appointment with Central Registration

Come to Central Registration (located at the Tift County Schools Administrative Offices) to complete the address change
Phone: (229) 387-2424
Email: registration@tiftschools.com